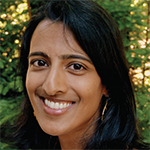 Shanthini Kasturi, MD, MS
Assistant Attending Physician, Hospital for Special Surgery, Assistant Professor of Medicine, Weill Cornell Medical College, New York City
Background: A recipient of the 2015 Rheumatology Research Foundation Scientist Development Award, Dr. Kasturi was drawn to the field because of its "whole-person approach" to patient care.
ADVERTISEMENT
SCROLL TO CONTINUE
She earned undergraduate and medical degrees from Harvard and completed internal medicine residency at Beth Israel Deaconess Medical Center in Boston. She completed fellowship in rheumatology at Hospital for Special Surgery in New York, and currently is faculty at Hospital for Special Surgery as well as at Weill Cornell Medical College, where she earned her Master's in Clinical Epidemiology.
Her research focuses on the use of patient-reported outcome measures to improve care of rheumatic diseases. "We are validating PROMIS [Patient-Reported Outcomes Measurement Information System] computerized adaptive surveys in patients with systemic lupus erythematosus by comparing them with older, 'gold standard' surveys, such as the SF-36 and LupusQoL," she explains. "Validation of these surveys will provide clinicians with precise tools to measure patient responses to interventions. On a health systems or population level, these surveys will enable standardized tracking of patient-reported outcomes that can guide performance improvement initiatives."
ADVERTISEMENT
SCROLL TO CONTINUE
She also is investigating how clinical integration of surveys can facilitate patient engagement and patient-centered care. Active in medical education, she helped develop and implement a course in musculoskeletal physical examination skills for rheumatology fellows.
Q: Why did you choose rheumatology?
A: The diseases we treat as rheumatologists are fascinating, but the relationships we build with patients are what really keep me engaged. I enjoy getting to know patients over time and helping them navigate the complexities of chronic systemic illness. These relationships remind me of the myriad goals and priorities that patients bring to their care—and inspires my research into making outcome measurement and care more patient centered.
ADVERTISEMENT
SCROLL TO CONTINUE
Q: What lessons did you learn from your mentor?
A: I have been very fortunate to work with wonderful mentors who have provided invaluable support in both my clinical and research endeavors. Lisa Mandl, MD, MPH, in particular, has been an amazing mentor, helping me with everything from hammering out the details of research methodology to guiding me in this early stage of my career. She has taught me to be rigorous and to think big.
Q: What inspired you to develop the course in musculoskeletal physical exam skills?
A: When I started fellowship, the rheumatologic musculoskeletal exam was an area where I was not as confident as I would have liked to be. I learned this was a common feeling among many of my co-fellows. Under the mentorship of Vivian Bykerk, MD, we created a curriculum to address this gap.