For they're some very good fellows … no, seriously. They are this year's recipients of the ACR Distinguished Fellows Awards. The Rheumatologist spoke with them about their burgeoning contributions to Advancing Rheumatology!
ACR Distinguished Fellow Awards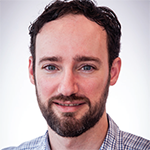 Eric Allenspach, MD, PhD
Acting Assistant Professor, Seattle Children's Hospital, Seattle
ADVERTISEMENT
SCROLL TO CONTINUE
Background: Dr. Allenspach seeks to understand the genetic basis for immune dysregulation in both human primary immune deficiencies and autoimmune disease. "Patients with early-onset, primary immune deficiencies and/or early-onset autoimmunity have taught us tremendous amounts about how the immune system protects us from infections and maintains tolerance," he says. "During medical school and pediatric residency, I was struck by the autoimmune manifestations in patients with primary immune deficiencies, and motivated by the discovery of monogenic forms of autoimmunity."
Dr. Allenspach graduated from the University of Michigan in Ann Arbor, then earned his medical and doctorate degrees at the University of Pennsylvania in Philadelphia. He completed residency at the University of Washington in Seattle and recently completed a dual fellowship in pediatric rheumatology and pediatric immunology.
ADVERTISEMENT
SCROLL TO CONTINUE
"The ACR has supported my research efforts since residency with overwhelming encouragement," he says. "The early backing from the ACR led me to pursue a career in rheumatology."
Honored with the 2016 Rheumatology Research Foundation Scientist Development Award, he says his patients are a "constant motivation," as he investigates new ways to diagnose and treat autoimmune disease.
Q: What is the elevator pitch for your research efforts?
ADVERTISEMENT
SCROLL TO CONTINUE
A: Inborn errors of immunity have been [found] to confer increased susceptibility to particular pathogens. Similarly, autoimmune manifestations early in life are likely to represent genetically predisposed breaks in tolerance. I have been pursuing both genome sequencing of novel rare familial phenotypes and murine modeling of common genetic risk variants to further understand the genetic predisposition to autoimmunity. Functional validation of genetic variation will be critical prior to bringing these findings back to our patients.
Q: You say ACR backing led you to a career in rheumatology. How so, and did you have any mentors who helped steer you in this direction?
A: Mentorship was critical at every decision point in my career, including choosing a medical scientist training program, pediatrics residency program and, most recently, the fields of immunology and rheumatology. My mentors were invaluable and taught me the importance of the physical exam, observation and accurate phenotype descriptions.
Q: Where do you want to be in 10 years?
A: I hope to have an independent research program as an academic physician scientist pursuing genotype-to-phenotype correlations. My current work on autoimmune risk variants will combine with others' work to help risk stratify patients before the development of disease and to uncover new therapeutic targets.