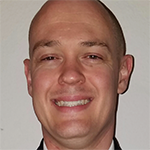 Ian Ward, MD
Staff Rheumatologist, Landstuhl Regional Medical Center, Germany; Assistant Professor of Medicine, Uniformed Services University of the Health Sciences, Bethesda, Md.
Background: At just 7 years old, Dr. Ward had already endured several surgeries and outpatient procedures to correct a congenital abnormality. And since his father was in the U.S. Air Force, much of that care was at a U.S. Army Hospital.
ADVERTISEMENT
SCROLL TO CONTINUE
Being a doctor caring for enlisted men was always in the cards for this boy-cum-man. "I am forever grateful for the care I received as a 7-year-old, and the impact the military physicians and support staff had on me carried over into my desire to join the military," he says. "I wanted to be a physician that could care for the active duty men and women in the U.S. military, as well as their dependents."
After graduating from the University of Notre Dame, Dr. Ward was commissioned as an Army officer in 2006. He earned his degree from Tulane University School of Medicine in New Orleans—developing an interest in autoimmunity along the way—and did his internal medicine residency and fellowship at San Antonio Uniformed Services Health Education Consortium (SAUSHEC). He has completed the USSONAR course in musculoskeletal ultrasound, which he believes is valuable to the future of the specialty. In addition, he sees telemedicine as another avenue to help transform rheumatology. He was assigned to Germany after finishing his fellowship this summer.
ADVERTISEMENT
SCROLL TO CONTINUE
Q: What was more difficult, being commissioned as an officer or getting through medical school?
A: Each had its own challenges unique to the endeavor. During my undergraduate education, I participated in the Reserve Officer Training Corps program through which I received my commissioning at graduation. Over the course of four years, I spent many predawn mornings doing physical training or other military specific training. Medical school, while not physically challenging, was a difficult four years, as well due to the numerous hours spent in the anatomy lab and the library studying. However, the discipline learned during my undergraduate years, reinforced by my ROTC training, helped me perform well in medical school.
Q: Do you hope to return to the U.S., or spend your career serving abroad?
ADVERTISEMENT
SCROLL TO CONTINUE
A: Eventually, my hope is to return to graduate medical education so I can have a hand in training the next generation of rheumatologists. Ideally, I hope to have a presence within each level of medical education from medical school to residency to fellowship. Knowing the critical workforce shortages projected moving forward, it is imperative to foster an interest in rheumatology in medical students and residents. My path to rheumatology involved great mentors who fostered my interest and helped me understand the complex concepts of autoimmunity. By becoming a mentor for young trainees, I can pay it forward and work toward a robust rheumatology community.