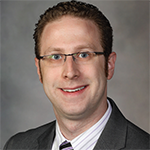 Matthew Koster, MD
Assistant Professor of Medicine, Mayo Clinic College of Medicine; Senior Associate Consultant, Division of Rheumatology, Mayo Clinic, all in Rochester, Minn.
Background: Dr. Koster could have been the next in a long line of fellows to focus on the more commonly diagnosed rheumatoid arthritis (RA) and systemic lupus erythematosus (SLE). But he chose to dedicate himself to vasculitis.
ADVERTISEMENT
SCROLL TO CONTINUE
"To borrow the slogan from the Vasculitis Foundation: 'Vasculitis: More common than you think. More serious than you know.' Vasculitides are by far the most interesting and challenging groups of conditions within rheumatology. I have always gravitated toward the more puzzling diseases, and the vasculitides certainly fit the bill."
Dr. Koster earned his medical degree at the Loyola University Stritch School of Medicine in Maywood, Ill., just outside his hometown of Chicago. He completed his internal medicine residency at Loyola University Medical Center and finished his fellowship at Mayo Clinic this year.
ADVERTISEMENT
SCROLL TO CONTINUE
Accolades from last year include the Fokko van der Woude Memorial Award for best oral clinical presentation at the 17th International ANCA and Vasculitis Workshop in 2015, and the Mayo Clinic Howard F. Polley Outstanding abstract award. Also, Dr. Koster's interest in ultrasonography led him to complete the USSONAR training program this year.
Q: What drew you to more complex cases?
A: During medical school rotations, I more naturally gravitated to the more cognitive and cerebral specialties, where patients were more frequently complex and needed collaborative care. My early mentors in medicine were internists who demonstrated a broad, yet deep, knowledge of pathophysiology and were experts in the physical exam. This was something I desired to master and emulate.
ADVERTISEMENT
SCROLL TO CONTINUE
Q: What is more satisfying: practice or preaching?
A: There is a special joy when you are able to teach someone a new concept or skill. The excitement that comes when someone finally understands a difficult topic or idea is infectious … although teaching medical trainees is a passion of mine, I approach each clinical encounter like an educational mini-lecture. Rheumatologic diseases are complex enough for clinicians to understand, let alone someone without any medical background. The practice and art of medicine are successfully teaching patients about their disease and how to take care of it.
Q: Why is developing a musculoskeletal and vascular ultrasound curriculum important to you?
A: Vasculitis, particularly large vessel disease with giant cell arteritis and Takayasu arteritis, is a clinical and research interest of mine. In Europe, ultrasound is used routinely for evaluating patients with large vessel vasculitis. In order for this to become more commonplace in the United States, we need to gain more experience and educate the next generation of rheumatologists. In the hand of a rheumatologist the ultrasound machine is a powerful tool because it is an extension of the physical exam and can be used to evaluate vascular, articular and periarticular structures of affected areas in real time.