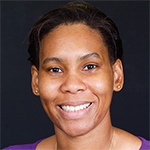 Nadia Morgan, MBBS
Johns Hopkins University, Baltimore
Background: Growing up in Kingston, Jamaica, Dr. Morgan saw from an early age how fulfilled her mother was by her practice in family medicine. So both she and her sister became doctors. Her sister chose the pulmonary field.
ADVERTISEMENT
SCROLL TO CONTINUE
"But I was intrigued by rheumatology. … It includes the management of many systemic conditions and requires a sound knowledge of medicine," she says. "Also, most rheumatologic conditions are chronic, requiring continuity of care and promoting the establishment of a good rapport with patients."
After earning her medical degree from the University of the West Indies in Kingston, Dr. Morgan emigrated to the United States, because training options in the Caribbean were limited. She completed her internal medicine residency at State University of New York (SUNY) Downstate in Brooklyn, before choosing Johns Hopkins to commence her training in rheumatology. Since coming to Johns Hopkins, she has obtained a Master in Health Sciences at the Johns Hopkins Bloomberg School of Public Health, and became the first fellow to serve on the ACR's Committee on Registries and Health Information Technology.
ADVERTISEMENT
SCROLL TO CONTINUE
Q: How have your travels impacted you and your practice of medicine?
A: Kingston to Brooklyn to Baltimore is quite an itinerary, but at each of these locations, I have been exposed to a melting pot of cultures. When I see international patients, I can easily identify with the anxiety associated with being far away from home. This allows me to empathize with their situation. Furthermore, for all of my patients, my Jamaican heritage often proves to be a useful icebreaker. … It helps to introduce a more human element to the medical evaluation and puts my patients at ease.
Q: You have a passion for studying chronic disease among underprivileged populations. Why?
ADVERTISEMENT
SCROLL TO CONTINUE
A: During my early medical training, I found another kind of satisfaction in volunteering: I worked on teams that crossed professional disciplines to provide educational, medical and other support to people from inner-city communities. I saw the difference our efforts made in improving their access to healthcare and raising awareness of the HIV/AIDS epidemic. This fueled my desire to ensure that those most vulnerable would benefit from my clinical and research activities.
Q: What do you hope to accomplish in rheumatology over the next few decades?
A: Determining what drives the fibrotic manifestations of scleroderma in African Americans and how its effects can be mitigated. The current treatment of scleroderma is primarily symptomatic, and I hope to identify novel prognostic biomarkers and targets for effective disease-modifying therapies. I believe that success in elucidating and altering the disease course of scleroderma will be achieved only through the efforts of multiple investigators who are dedicated to the same goals.