For they're some very good fellows … no, seriously. They are this year's recipients of the ACR Distinguished Fellows Awards. The Rheumatologist spoke with them about their burgeoning contributions to Advancing Rheumatology!
ACR Distinguished Fellow Awards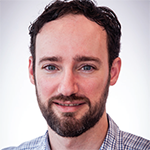 Eric Allenspach, MD, PhD
Acting Assistant Professor, Seattle Children's Hospital, Seattle
ADVERTISEMENT
SCROLL TO CONTINUE
Background: Dr. Allenspach seeks to understand the genetic basis for immune dysregulation in both human primary immune deficiencies and autoimmune disease. "Patients with early-onset, primary immune deficiencies and/or early-onset autoimmunity have taught us tremendous amounts about how the immune system protects us from infections and maintains tolerance," he says. "During medical school and pediatric residency, I was struck by the autoimmune manifestations in patients with primary immune deficiencies, and motivated by the discovery of monogenic forms of autoimmunity."
Dr. Allenspach graduated from the University of Michigan in Ann Arbor, then earned his medical and doctorate degrees at the University of Pennsylvania in Philadelphia. He completed residency at the University of Washington in Seattle and recently completed a dual fellowship in pediatric rheumatology and pediatric immunology.
ADVERTISEMENT
SCROLL TO CONTINUE
"The ACR has supported my research efforts since residency with overwhelming encouragement," he says. "The early backing from the ACR led me to pursue a career in rheumatology."
Honored with the 2016 Rheumatology Research Foundation Scientist Development Award, he says his patients are a "constant motivation," as he investigates new ways to diagnose and treat autoimmune disease.
Q: What is the elevator pitch for your research efforts?
ADVERTISEMENT
SCROLL TO CONTINUE
A: Inborn errors of immunity have been [found] to confer increased susceptibility to particular pathogens. Similarly, autoimmune manifestations early in life are likely to represent genetically predisposed breaks in tolerance. I have been pursuing both genome sequencing of novel rare familial phenotypes and murine modeling of common genetic risk variants to further understand the genetic predisposition to autoimmunity. Functional validation of genetic variation will be critical prior to bringing these findings back to our patients.
Q: You say ACR backing led you to a career in rheumatology. How so, and did you have any mentors who helped steer you in this direction?
A: Mentorship was critical at every decision point in my career, including choosing a medical scientist training program, pediatrics residency program and, most recently, the fields of immunology and rheumatology. My mentors were invaluable and taught me the importance of the physical exam, observation and accurate phenotype descriptions.
Q: Where do you want to be in 10 years?
A: I hope to have an independent research program as an academic physician scientist pursuing genotype-to-phenotype correlations. My current work on autoimmune risk variants will combine with others' work to help risk stratify patients before the development of disease and to uncover new therapeutic targets.
Matthew Baker, MD
Post-Doctoral Research Fellow, Division of Immunology and Rheumatology, Stanford University
Background: Dr. Baker took the indirect route to rheumatology: from small-town scholar to an environmental analysis major in college to two years in a cancer research lab at the National Institutes of Health before attending Harvard Medical School, Boston. His goal is to become a translational physician-scientist focused on "characterizing novel autoantibodies in PR3+ ANCA-associated vasculitis."
"I have always been fascinated by the immune system," he says. "I became intrigued with the concept of autoimmunity as a medical student and loved the clinical practice of rheumatology as a resident. I was particularly drawn to the thoughtful and multidisciplinary approach of rheumatology, and ultimately, it was a natural fit for me."
Working in the post-doc laboratory with Dr. William Robinson at Stanford, Dr. Baker is helping identify new targets in disease pathogenesis, specifically validating targets with in vitro and in vivo models. He is also working closely with Mark Genovese, MD, of Stanford University, Palo Alto, Calif., to begin a new investigator-initiated clinical trial in a well-defined subset of patients with SLE. "We employ a technology that allows us to sample blood from patients who are flaring from their autoimmune disease, single-cell sort the activated B cells that are about to make antibodies and sequence the antibody genes in these cells," he says. "We then compare sequences among individual cells and identify clonal families, which we presume are important in active disease."
Q: What do you love about rheumatology?
A: No two patients in rheumatology are the same, and there is still so much we do not understand.
Q: What does it mean to be recognized by your peers?
A: It's an incredible honor. There are so many great trainees across the country, and I feel incredibly lucky to be acknowledged this year. It inspires me to keep working hard and giving back to academic rheumatology.
Q: What is most exciting about being involved in the creation of a new therapy?
A: The most compelling aspect is the ability to potentially offer a beneficial treatment to a patient who has been struggling with their disease and has been refractory to all other modalities. I am eager to learn how to effectively run a clinical trial and further the development of novel therapies.
Q: What advice do you have for the next generation of rheumatology fellows?
A: Stay hungry, stay curious, question everything, and never take a diagnosis for granted. There is so much that we do not know in rheumatology, and we need the next generation to continue to challenge the status quo and drive the field forward.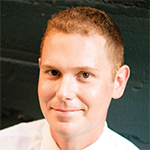 Matlock Jeffries, MD
Assistant Professor, Division of Rheumatology, Immunology, and Allergy, University of Oklahoma Health Sciences Center
Background: Dr. Jeffries grew up on a cattle ranch in Oklahoma, attended state university and, at 33 years old, has carved out a pretty good gig for himself. Having spent a year working as a lab tech, he went on to earn his medical degree from Oklahoma University in 2010. He did his residency and completed his fellowship in the same place. His workweek is 75% research and 25% clinic, and he has no plans to move any time soon.
"I really enjoyed being in the research lab," he says. "I was lucky enough to get hired by Amr Sawalha, MD, another previous ACR Distinguished Fellow [now at the University of Michigan]. I was the first lab tech that he hired when he got out of fellowship, which meant I had an extraordinarily broad exposure to laboratory techniques and scientific writing in a very supportive environment."
A founding member of an international consortium and data repository for osteoarthritis epigenetic information, Dr. Jeffries was among the first to elucidate genome-wide DNA methylation matters in OA cartilage and recently investigated epigenetic alterations in OA subchondral bone. He is now focusing on the role of systemic inflammatory epigenetic changes in OA patients.
Q: What are your goals for your research lab?
A: My short-term goal is to find an easy—hopefully—blood-based biomarker that we can use to differentiate the knee OA patients who are going to rapidly progress from those that just kind of hang out for decades. If we're going to have any hope of getting therapies that work, we need to design clinical trials that include the patients that are actually going to get worse in a few years. We have no biomarkers, so far. [Long term], we may uncover something else that is different about the immune system that we might be able to use to develop drugs in the future.
Q: What's the most challenging part of your job right now?
A: Balancing the clinical stuff that I do with all the research responsibilities. Neither are exactly easy on their own, and the combination is sometimes daunting, but I wouldn't have it any other way.
Q: What has the ACR meant to you and your career?
A: It's meant a lot, but two things stand out. First, it has meant funding. I have received the ACR medical school and resident preceptorships, and I'm getting the fellowship award now. These sources of funding allowed me to pursue my own projects starting early and gave me a great foothold of preliminary data for later grant submissions. The second thing is the connections. I was fortunate to go to the ACR Rheumatology Research Workshop twice and several ACR/ARHP Annual Meetings, and met some key folks from the ACR and NIH. It has been a great experience having been exposed to high-level research early on. I have no doubt that that's helped me get to where I am today.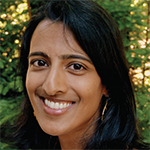 Shanthini Kasturi, MD, MS
Assistant Attending Physician, Hospital for Special Surgery, Assistant Professor of Medicine, Weill Cornell Medical College, New York City
Background: A recipient of the 2015 Rheumatology Research Foundation Scientist Development Award, Dr. Kasturi was drawn to the field because of its "whole-person approach" to patient care.
She earned undergraduate and medical degrees from Harvard and completed internal medicine residency at Beth Israel Deaconess Medical Center in Boston. She completed fellowship in rheumatology at Hospital for Special Surgery in New York, and currently is faculty at Hospital for Special Surgery as well as at Weill Cornell Medical College, where she earned her Master's in Clinical Epidemiology.
Her research focuses on the use of patient-reported outcome measures to improve care of rheumatic diseases. "We are validating PROMIS [Patient-Reported Outcomes Measurement Information System] computerized adaptive surveys in patients with systemic lupus erythematosus by comparing them with older, 'gold standard' surveys, such as the SF-36 and LupusQoL," she explains. "Validation of these surveys will provide clinicians with precise tools to measure patient responses to interventions. On a health systems or population level, these surveys will enable standardized tracking of patient-reported outcomes that can guide performance improvement initiatives."
She also is investigating how clinical integration of surveys can facilitate patient engagement and patient-centered care. Active in medical education, she helped develop and implement a course in musculoskeletal physical examination skills for rheumatology fellows.
Q: Why did you choose rheumatology?
A: The diseases we treat as rheumatologists are fascinating, but the relationships we build with patients are what really keep me engaged. I enjoy getting to know patients over time and helping them navigate the complexities of chronic systemic illness. These relationships remind me of the myriad goals and priorities that patients bring to their care—and inspires my research into making outcome measurement and care more patient centered.
Q: What lessons did you learn from your mentor?
A: I have been very fortunate to work with wonderful mentors who have provided invaluable support in both my clinical and research endeavors. Lisa Mandl, MD, MPH, in particular, has been an amazing mentor, helping me with everything from hammering out the details of research methodology to guiding me in this early stage of my career. She has taught me to be rigorous and to think big.
Q: What inspired you to develop the course in musculoskeletal physical exam skills?
A: When I started fellowship, the rheumatologic musculoskeletal exam was an area where I was not as confident as I would have liked to be. I learned this was a common feeling among many of my co-fellows. Under the mentorship of Vivian Bykerk, MD, we created a curriculum to address this gap.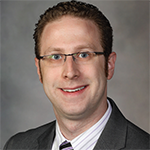 Matthew Koster, MD
Assistant Professor of Medicine, Mayo Clinic College of Medicine; Senior Associate Consultant, Division of Rheumatology, Mayo Clinic, all in Rochester, Minn.
Background: Dr. Koster could have been the next in a long line of fellows to focus on the more commonly diagnosed rheumatoid arthritis (RA) and systemic lupus erythematosus (SLE). But he chose to dedicate himself to vasculitis.
"To borrow the slogan from the Vasculitis Foundation: 'Vasculitis: More common than you think. More serious than you know.' Vasculitides are by far the most interesting and challenging groups of conditions within rheumatology. I have always gravitated toward the more puzzling diseases, and the vasculitides certainly fit the bill."
Dr. Koster earned his medical degree at the Loyola University Stritch School of Medicine in Maywood, Ill., just outside his hometown of Chicago. He completed his internal medicine residency at Loyola University Medical Center and finished his fellowship at Mayo Clinic this year.
Accolades from last year include the Fokko van der Woude Memorial Award for best oral clinical presentation at the 17th International ANCA and Vasculitis Workshop in 2015, and the Mayo Clinic Howard F. Polley Outstanding abstract award. Also, Dr. Koster's interest in ultrasonography led him to complete the USSONAR training program this year.
Q: What drew you to more complex cases?
A: During medical school rotations, I more naturally gravitated to the more cognitive and cerebral specialties, where patients were more frequently complex and needed collaborative care. My early mentors in medicine were internists who demonstrated a broad, yet deep, knowledge of pathophysiology and were experts in the physical exam. This was something I desired to master and emulate.
Q: What is more satisfying: practice or preaching?
A: There is a special joy when you are able to teach someone a new concept or skill. The excitement that comes when someone finally understands a difficult topic or idea is infectious … although teaching medical trainees is a passion of mine, I approach each clinical encounter like an educational mini-lecture. Rheumatologic diseases are complex enough for clinicians to understand, let alone someone without any medical background. The practice and art of medicine are successfully teaching patients about their disease and how to take care of it.
Q: Why is developing a musculoskeletal and vascular ultrasound curriculum important to you?
A: Vasculitis, particularly large vessel disease with giant cell arteritis and Takayasu arteritis, is a clinical and research interest of mine. In Europe, ultrasound is used routinely for evaluating patients with large vessel vasculitis. In order for this to become more commonplace in the United States, we need to gain more experience and educate the next generation of rheumatologists. In the hand of a rheumatologist the ultrasound machine is a powerful tool because it is an extension of the physical exam and can be used to evaluate vascular, articular and periarticular structures of affected areas in real time.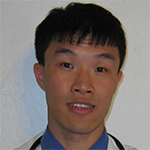 Pui Lee, MD, PhD
Instructor of Pediatrics, Harvard Medical School, Boston Children's Hospital
Background: Dr. Lee studies the molecular pathways involved in the development and differentiation of inflammatory monocytes. His goal is to identify novel ways to target monocyte-mediated inflammation in rheumatic diseases.
"I am motivated by the accelerated pace of understanding of immunologic/inflammatory diseases," he says, "and the shortage of clinicians caring for children with rheumatologic conditions."
He joined Boston Children's after earning his medical and doctorate degrees at the University of Florida. During his graduate research, he studied the role of toll-like receptors and type I interferons in systemic lupus erythematous with Dr. Westley Reeves. His interest in innate immunity led to the discovering of novel pathways of monocyte development, for which he received a Rheumatology Research Foundation award.
He is a member of the ACR and Childhood Arthritis & Rheumatology Research Alliance (CARRA).
Q: What led you to pediatric rheumatology?
A: I've seen firsthand the hardship of children with rheumatologic conditions, having to travel for hours regularly to see a pediatric specialist. I felt pediatric rheumatology was the perfect place to integrate my desire to help children with chronic illness and my interest in immunology research.
Q: What does it mean to be recognized by your peers?
A: I am certainly honored to receive this award. It recognizes the many mentors who guide me during clinical and research training.
Q: How has the American College of Rheumatology—and the Rheumatology Research Foundation—affected your career?
A: The ACR and the Foundation have provided tremendous support. I attended the ACR/ARHP Annual Meeting several times as a medical student, and that experience certainly contributed to my decision to become a pediatric rheumatologist. The ACR is a great resource for identifying mentors and colleagues with similar interests.
Q: What is the biggest challenge you face as a researcher/pediatric rheumatologist?
A: The relative paucity of evidence-based guidelines for diagnostic evaluation and treatment of children with rheumatologic diseases. We often rely on lessons learned from adult medicine. However, this is not always optimal.
Q: What do you see as the future of pediatric rheumatology?
A: Very bright, with the advances in genomics and targeted therapy. As a community, pediatric rheumatologists understand the importance of collaboration and learning from each other through such organizations as the ACR and CARRA to help advance our field.
Q: Where do you want to be in 10 years?
A: I would like to establish my own laboratory and continue my career path as a physician-scientist.
Jonathan Miner, MD, PhD
Instructor in Medicine, Washington University in Saint Louis School of Medicine, St. Louis
Background: When Dr. Miner launches his own lab in January 2017, it will be a dream come true. Of course, in those dreams, the words chikungunya and Zika had not come up until recently.
"But that's why I love laboratory research," he says. "Every day there is something new. Also, the connections among different fields of science are much greater than some people may appreciate. For example, many of the genes that were first discovered and characterized as anti-viral factors are now known to be very important in autoimmune diseases, like lupus."
Dr. Miner finished his medical and graduate training at the University of Oklahoma College of Medicine and the Oklahoma Medical Research Foundation. That was followed by training in internal medicine and rheumatology at Barnes-Jewish Hospital and Washington University in Saint Louis. As a rheumatology fellow, he worked on viral pathogenesis and innate immunity in the laboratory of Michael Diamond, an internationally recognized expert in flavivirus and alphavirus pathogenesis.
Dr. Miner published four first-author papers describing patients with chikungunya viral arthritis, animal models of Zika virus pathogenesis and innate immune mechanisms that regulate blood-brain barrier permeability. His lab will continue that work and focus on innate immunity, mechanisms of viral arthritis and host-pathogen interactions in rheumatologic disease.
Q: What about the science of rheumatology appeals so much to you?
A: Above all else, I am driven by a desire to discover new things. My research has focused on viral pathogenesis, but my clinical training has allowed me to consider connections between pathogens, innate immune virus-sensing pathways and autoimmunity. Going forward, I think my training will allow me to define ways in which viruses may act to trigger autoimmunity, and also ways in which virus-sensing pathways may be inappropriately activated to cause rheumatologic disease.
Q: What was the experience like, working under such a well-known scientist?
A: When it came time for me to start my post-doctoral research training, I decided that mentorship was more important than the topic that I might end up studying. Instead of focusing my lab work on rheumatologic disease, I decided to do research with an infectious disease physician-scientist (Mike Diamond), who has helped me learn how to do rigorous basic science research on virus–host interactions. Training in Mike's lab has given me tools that I will now to take to my own lab to open entirely new avenues of research.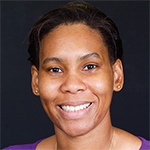 Nadia Morgan, MBBS
Johns Hopkins University, Baltimore
Background: Growing up in Kingston, Jamaica, Dr. Morgan saw from an early age how fulfilled her mother was by her practice in family medicine. So both she and her sister became doctors. Her sister chose the pulmonary field.
"But I was intrigued by rheumatology. … It includes the management of many systemic conditions and requires a sound knowledge of medicine," she says. "Also, most rheumatologic conditions are chronic, requiring continuity of care and promoting the establishment of a good rapport with patients."
After earning her medical degree from the University of the West Indies in Kingston, Dr. Morgan emigrated to the United States, because training options in the Caribbean were limited. She completed her internal medicine residency at State University of New York (SUNY) Downstate in Brooklyn, before choosing Johns Hopkins to commence her training in rheumatology. Since coming to Johns Hopkins, she has obtained a Master in Health Sciences at the Johns Hopkins Bloomberg School of Public Health, and became the first fellow to serve on the ACR's Committee on Registries and Health Information Technology.
Q: How have your travels impacted you and your practice of medicine?
A: Kingston to Brooklyn to Baltimore is quite an itinerary, but at each of these locations, I have been exposed to a melting pot of cultures. When I see international patients, I can easily identify with the anxiety associated with being far away from home. This allows me to empathize with their situation. Furthermore, for all of my patients, my Jamaican heritage often proves to be a useful icebreaker. … It helps to introduce a more human element to the medical evaluation and puts my patients at ease.
Q: You have a passion for studying chronic disease among underprivileged populations. Why?
A: During my early medical training, I found another kind of satisfaction in volunteering: I worked on teams that crossed professional disciplines to provide educational, medical and other support to people from inner-city communities. I saw the difference our efforts made in improving their access to healthcare and raising awareness of the HIV/AIDS epidemic. This fueled my desire to ensure that those most vulnerable would benefit from my clinical and research activities.
Q: What do you hope to accomplish in rheumatology over the next few decades?
A: Determining what drives the fibrotic manifestations of scleroderma in African Americans and how its effects can be mitigated. The current treatment of scleroderma is primarily symptomatic, and I hope to identify novel prognostic biomarkers and targets for effective disease-modifying therapies. I believe that success in elucidating and altering the disease course of scleroderma will be achieved only through the efforts of multiple investigators who are dedicated to the same goals.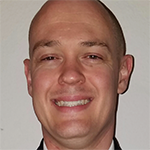 Ian Ward, MD
Staff Rheumatologist, Landstuhl Regional Medical Center, Germany; Assistant Professor of Medicine, Uniformed Services University of the Health Sciences, Bethesda, Md.
Background: At just 7 years old, Dr. Ward had already endured several surgeries and outpatient procedures to correct a congenital abnormality. And since his father was in the U.S. Air Force, much of that care was at a U.S. Army Hospital.
Being a doctor caring for enlisted men was always in the cards for this boy-cum-man. "I am forever grateful for the care I received as a 7-year-old, and the impact the military physicians and support staff had on me carried over into my desire to join the military," he says. "I wanted to be a physician that could care for the active duty men and women in the U.S. military, as well as their dependents."
After graduating from the University of Notre Dame, Dr. Ward was commissioned as an Army officer in 2006. He earned his degree from Tulane University School of Medicine in New Orleans—developing an interest in autoimmunity along the way—and did his internal medicine residency and fellowship at San Antonio Uniformed Services Health Education Consortium (SAUSHEC). He has completed the USSONAR course in musculoskeletal ultrasound, which he believes is valuable to the future of the specialty. In addition, he sees telemedicine as another avenue to help transform rheumatology. He was assigned to Germany after finishing his fellowship this summer.
Q: What was more difficult, being commissioned as an officer or getting through medical school?
A: Each had its own challenges unique to the endeavor. During my undergraduate education, I participated in the Reserve Officer Training Corps program through which I received my commissioning at graduation. Over the course of four years, I spent many predawn mornings doing physical training or other military specific training. Medical school, while not physically challenging, was a difficult four years, as well due to the numerous hours spent in the anatomy lab and the library studying. However, the discipline learned during my undergraduate years, reinforced by my ROTC training, helped me perform well in medical school.
Q: Do you hope to return to the U.S., or spend your career serving abroad?
A: Eventually, my hope is to return to graduate medical education so I can have a hand in training the next generation of rheumatologists. Ideally, I hope to have a presence within each level of medical education from medical school to residency to fellowship. Knowing the critical workforce shortages projected moving forward, it is imperative to foster an interest in rheumatology in medical students and residents. My path to rheumatology involved great mentors who fostered my interest and helped me understand the complex concepts of autoimmunity. By becoming a mentor for young trainees, I can pay it forward and work toward a robust rheumatology community.
---
Richard Quinn is a freelance writer in New Jersey.
2016 ACR Masters Award Winners Recognized for Excellence in Scholarly Achievement, Service to Rheumatology
Recognition as a Master of the American College of Rheumatology is one of the highest honors the College bestows. The designation of Master is conferred on ACR members, age 65 or older by Oct. 1 of the year in which they are nominated, who have made outstanding contributions to the ACR and the field of rheumatology through scholarly achievement and/or service to their patients, students and profession. The 2016 class is listed below, for additional reading, see 2016 ARHP Award Winners Discuss Their Contributions to Rheumatology & The 2016 ACR Award Winners Discuss Their Contributions to Rheumatology Research, Education, Patient Care.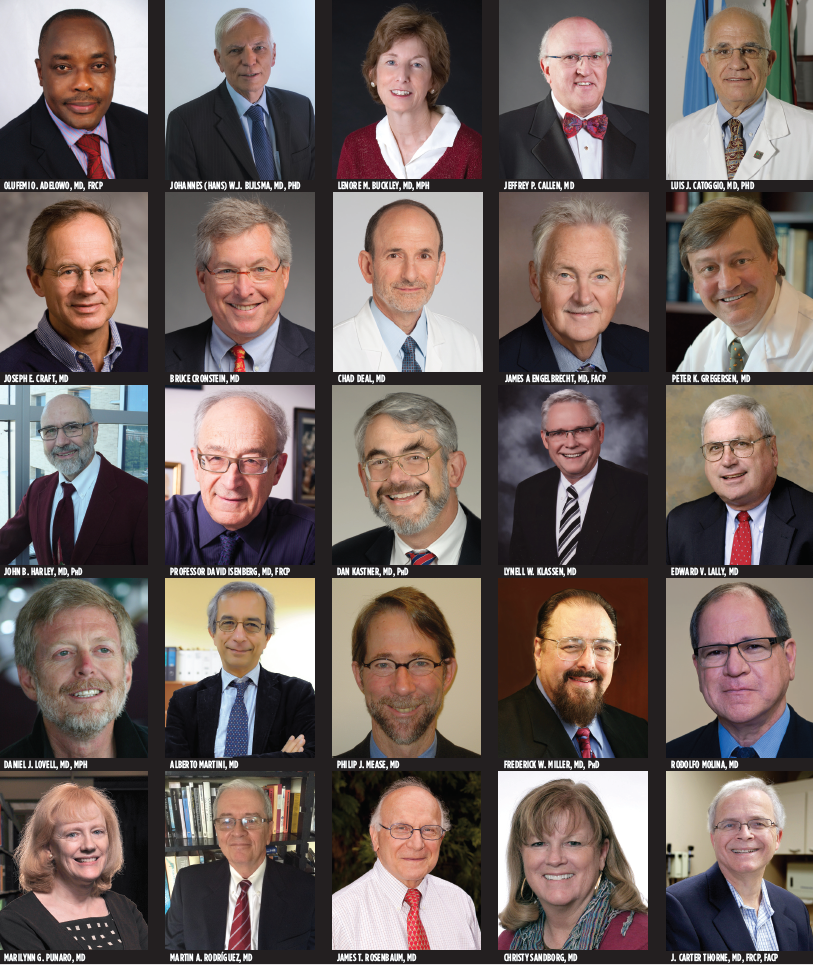 Olufemi O. Adelowo, MD, FRCP
Professor of Medicine and Consultant Rheumatologist, Lagos State University Teaching Hospital and Lagos University Teaching Hospital
Lagos, Nigeria
Johannes (Hans) W.J. Bijlsma, MD, PhD
Professor, Department of Rheumatology & Clinical Immunology, University Medical Center
Utrecht, The Netherlands
Lenore M. Buckley, MD, MPH
Professor of Medicine and Pediatrics, Yale University School of Medicine
New Haven, Conn.
Jeffrey P. Callen, MD
Chief of the Division of Dermatology, University of Louisville
Louisville, Ky.
Luis J. Catoggio, MD, PhD
Physician and Former Chief, Rheumatology Section, Medical Services, Hospital Italiano de Buenos Aires, Argentina, Associate Professor of Medicine, Instituto Universitario Hospital Italiano de Buenos Aires, Director, PhD Program, Instituto Universitario Hospital Italiano de Buenos Aires
Buenos Aires, Argentina
Joseph E. Craft, MD
Paul B. Beeson Professor of Medicine
Professor of Immunobiology, Chief, Section of Rheumatology, Chief of Rheumatology, Yale-New Haven Hospital
Director, Investigative Medicine Program, Yale University
New Haven, Conn.
Bruce Cronstein, MD
The Paul R. Esserman Professor of Medicine, Director of the NYU-H+H Clinical and Translational Science Institute, Director of the Division of Translational Medicine, NYU School of Medicine, Division of Rheumatology
New York
Chad Deal, MD
Associate Professor of Medicine, Cleveland Clinic Lerner College of Medicine at Case Western Reserve University School of Medicine
Head, Section of Osteoporosis and Metabolic Bone Disease, Staff Physician, Cleveland Clinic
Cleveland
James A Engelbrecht, MD, FACP
Rheumatologist, Private Practice (retired), Clinical Professor of Medicine, USD Sanford School of Medicine, Associate Medical Director, Dakotacare
Rapid City, S.D.
Peter K. Gregersen, MD
Center Head for the Robert S. Boas Center for Genomics and Human Genetics, Feinstein Institute for Medical Research at Northwell Health
Manhasset, N.Y.
John B. Harley, MD, PhD
David Glass Chair and Professor, Director, Center for Autoimmune Genomics and Etiology (CAGE), Cincinnati Children's Hospital Medical Center, University of Cincinnati
Cincinnati
Professor David Isenberg, MD, FRCP
Consultant Rheumatologist, Centre for Rheumatology, Academic Director of Rheumatology, University College London Division of Medicine
London
Dan Kastner, MD, PhD
Scientific Director, Division of Intramural Research, National Human Genome Research Institute, National Institutes of Health
Bethesda, Md.
Lynell W. Klassen, MD
Robert L. Grissom Professor of Internal Medicine, Division of Rheumatology/Immunology, University of Nebraska Medical Center
Omaha, Neb.
Edward V. Lally, MD
Professor of Medicine, Warren Alpert School of Medicine at Brown University, Director, Division of Rheumatology, Warren Alpert School of Medicine at Brown University
Providence, R.I.
Daniel J. Lovell, MD, MPH
The Joseph E. Levinson Professor of Pediatrics, The University of Cincinnati Medical Center, Clinical Director, Division of Rheumatology, Cincinnati Children's Hospital Medical Center
Cincinnati
Alberto Martini, MD
Professor of Pediatrics, Genoa University
Scientific Director, G Gaslini Pediatric Research Institute
Genoa, Italy
Philip J. Mease, MD
Rheumatology Research Division Director, Swedish Medical Center, Clinical Professor of Medicine, The University of Washington
Seattle
Frederick W. Miller, MD, PhD
Chief, Environmental Autoimmunity Group, Deputy Chief, Clinical Research Branch, National Institute of Environmental Health Sciences, National Institutes of Health
Bethesda, Md.
Rodolfo Molina, MD
President and Founder of the State of Texas Association of Rheumatologists, President, Arthritis Associates
San Antonio
Marilynn G. Punaro, MD
Professor of Pediatrics, Division Chief, Pediatric Rheumatology, University of Texas Southwestern Medical Center
Dallas
Martin A. Rodríguez, MD
Head Research Centro Nacional de Enfermedades Reumáticas, Hospital Universitario de Caracas
Caracas, Venezuela
James T. Rosenbaum, MD
Professor of Ophthalmology, Medicine and Cell Biology, Oregon Health & Sciences University, Richard Chenoweth Chair of Ophthalmology, Legacy Devers Eye Institute
Portland, Ore.
Christy Sandborg, MD
Professor of Pediatrics, Stanford University, Associate Chair of the Department of Pediatrics, Vice President of Medical Affairs, Lucile Packard Children's Hospital
Stanford, Calif.
J. Carter Thorne, MD, FRCP, FACP
Assistant Professor, Chief, Division of Rheumatology, Director, Arthritis Program, University of Toronto, Consultant Staff, Southlake Regional Health Centre
Newmarket, Ontario, Canada